*This post contains an affiliate link, which means that if you decided to make a purchase through the link I will make a small commission at no cost to you!
While planning out content for my blog I realized that I never created a spring haircare routine post.
Which makes no sense to me since I'm all about skincare & haircare. So I decided to create one now.
Depending on the weather and how I'm feeling there are certain things I am just not willing to put myself through.
For example if its really warm I really don't want to heat style my hair or take too much time doing it so I opt for an easier routine.
Since my hair is damaged there is still steps that I need to take in order to care for it properly.
PIN THIS FOR LATER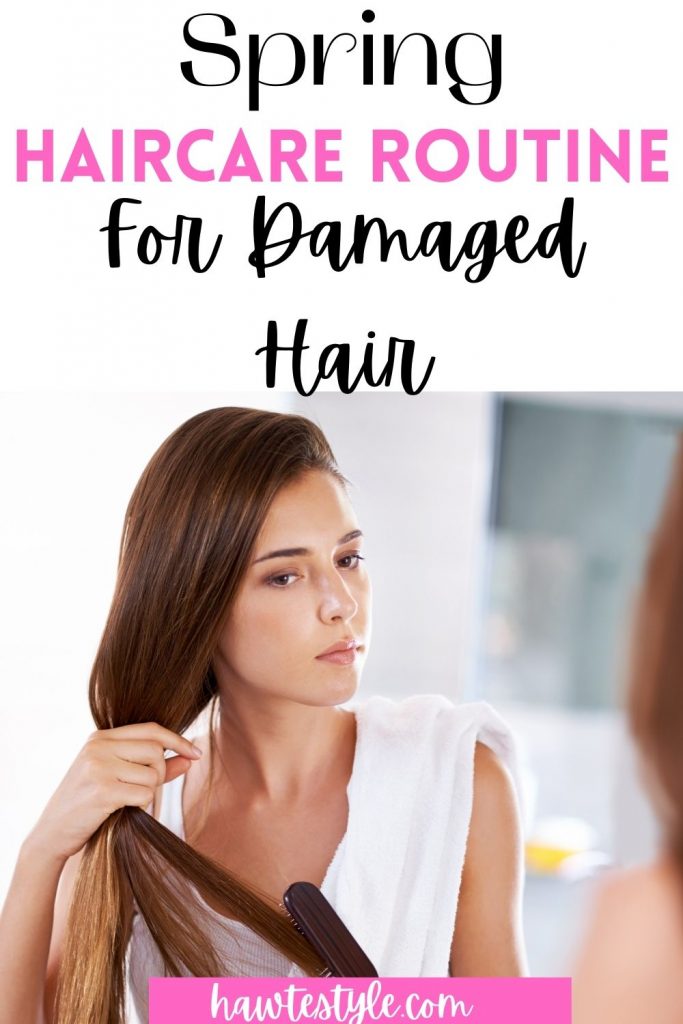 Hot Oil Treatments
Hot oil treatments are a great way to help damaged hair so that you don't have to use as many products afterwards.
A Hot oil treatment can even help the condition of your hair so that you will have to use less products after a while.
I have 2 different blog posts about hot oil treatments. See links below for more information.
DIY Hot Oil Treatments To Grow Your Hair Long
Hot Oil Treatments You Can Get At The Store

Shampoo & Conditioner
Having a great shampoo & conditioner can drastically change the condition of your hair.
This can take your hair from dry and dead to silky and smooth.
A new set that I have been trying out and really loving is the Pureology Hydrate shampoo and conditioner.
This set has really worked with my hair, it leaves my hair smooth and silky without any products. And it smells amazing.
If your looking for something more affordable try the Dove Nutritive Solutions Intensive Repair Shampoo and conditioner.
This has always been a favorite of mines and it really helps to restore the hair leaving it smooth.

Leave In Conditioner
A leave in conditioner is the key to helping your hair stay manageable with not as much work.
My favorite is the Marc Anthony Grow Long Caffeine Ginseng Rapid Grow Leave In conditioner.
I have been using this for years and its super affordable. Click here for more about this product.
I am not sure if this helps your hair to grow but it definitely help to make your hair manageable and soft.

Masks
I loving doing hair masks once in a while to help my hair from being too dry or damaged.
I am constantly trying new masks to see which ones I like the best and I have a few. Check out this list for some really great masks.
If you like making your own hair masks at home check out this list of DIY hair masks you can make from things right in your home.
Masks are really great to do 1-2 times a week based on what your hair needs.

Final Thoughts
This is how I usually take care of my hair in the spring. If I decide to style it with heat I will use a heat styler otherwise I won't need it.
Since its not too hot in the Spring in NY, I don't have to worry about humidity or any of that wreaking havoc on my hair.
This is my Spring haircare routine. How do you change up your haircare in the Spring time?
Does the heat affect your hair? Or is it a bit chilly by you so you don't have to worry about that yet?
Let me know in the comments below.