*This post contains an affiliate link, which means that if you decided to make a purchase through the link I will make a small commission at no cost to you!
In these times when we are not allowed to go outside to get any pampering done I've had to learn how to do my own gel manicure at home.
I love being able to do this for myself while learning a new skills.
Recently I saw a video about doing your own gel manicure at home.
This was intriguing, so I decided to look up the prices of the items and see if it was worth it to try.
Spending close to $100 every time I went to the nail salon was just too much to spend for nails that lasted 2-3 weeks.
I had stopped going for a while and when I saw that you could do it on your own I was so ready to try.
PIN THIS FOR LATER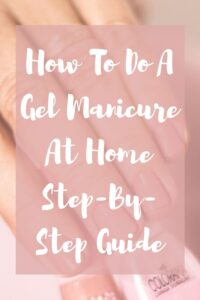 What Supplies do I need?
There are some supplies that you may already have like a nail file or nail clipper. But here is a list of all the supplies you will need:
If you don't to purchase each tool individually to complete the manicure here are a couple of sets that can help:
Or if you want to purchase the whole set with manicure set & gel tools & polish:
So now that we have all the supplies what do we do?
Step One – Removing Old Gel Polish
If you have gel nail polish on from before you have to remove this before you can begin the process.
So how do we do this? Well I found a polish that you can paint on your nails and leave for a couple of minutes.
Then scrap it off; this way is easier than soaking in acetone for a while.
I found this from an influencer that I was watching on YouTube.
The Arishine Magic Nail Polish Remover is really easy to use all you have to do is file the top layer of you nails a little, add the polish and wait for two minutes.
Once it has time to work all you have to do is scrap it off with the tool.
2 minutes later…
Step 2: Manicure
Here you file you nail into the shape that you want, I usually go with square. That's been my go to forever.
After filing, you use the nail buff block to smooth out the tops of your nails and the edges so they are no longer sharp.
Then soak each hand for a couple of minutes to soften the cuticle, once you take nails out of the water dry and add cuticle oil.
Then you start to push your cuticles up with the scraper.
Once the cuticles are pushed up use the cuticle clipper to clip your cuticles and any excess that your nails may have on it.
When you complete all 10 nails use the buff block again to make sure all nails remain smooth.
Now you can either wipe your nails down with a wet paper towel or you can wash your hands.
Step 3: Preparing The Gel Nail Polish
When using gel nail polish I like to let the bottle sit in hot water for a 1 or so to thin out the polish.
Gel nail polish is usually very thick and may make application difficult.
By heating it up a little you use less and apply it way better.
So before using each color or base/top coat I make sure it's warmed up.
SUBSCRIBE
Other Posts:
How To Do A Facial At Home For Acne Prone Skin
6 Ways To Practice Selfcare On Sundays
DIY Hot Oil Treatments To Grow Your Hair Long
Step 4: Applying The Gel Nail Polish
Once the polish is ready I start with the base coat, I apply to one hand at a time. After that I let it sit under the UV lamp for 60 seconds (machine has timing).
Now based on the polish you buy these instructions for the time may be different.
Once the base coat is on both hands and has been cured (under the lamp for a time period) we move on to the color.
I am usually warming up the next polish before I finish with the previous one. This way all the polishes are warm but the time I'm ready to use them.
I applied this the same way I did the base coat, one had at a time and left it under the UV lamp for 60 seconds. Two coats of the colored polish was good enough for me.
When you use too much polish, it tends to start peeling or chipping a lot faster.
Then I applied the top coat of nail polish the same way.
One hand at a time but this time I left each hand under the lamp for 120 seconds.
When both hands are complete, you can use an alcohol pad or rubbing alcohol with a cotton pad and gently wipe each nail.
And that's it your done!
How Long Does It Last
This polish is really great because it last for a full two weeks with no chipping. I did dishes everyday more than one time a day and it was still perfect.
It could have lasted longer but I get bored quickly sometimes, so I wanted to change the color.
Right now I'm going on three weeks with this new color. Its absolutely amazing how long and how well this polish lasted.
Benefits Of Doing Your Own Gel Manicure
There are many benefits of doing your gel manicure at home, first it save you so much money.
The products may cost a little more in the beginning because you're buying everything.
But in the long run you'll be spending so much less.
It also saves you that horrendous salon wait time. This was your not stuck at the salon waiting for a nail technician for an hour or more.
And you're pampering yourself in your own home so your comfortable.
This is alone is enough for me, I hate having to wait in the salon when I could be spending that time doing something more productive.
Another great thing about this is that I can look for the products that I want to put on my nails.
I can look for cleaner versions of the products that they use at the salon.
The Beetle Gel Nail Polish are low smell, 9 toxin free gel and not harmful to the skin.
And the benefit I like the most is that you can do your toes without any extra costs. Usually when I go to the salon, pedicures with gel nail polish are more expensive.
Related Posts: How To Do A Hot Oil Treatment For Healthier Hair
Would I continue to do this?
I will absolutely continue to do this if it saves me time, money and a trip to the salon that I probably didn't want to take.
Especially in these times when the salons are not open and we cant get our nails done as were use to we can do it ourselves.
Final Thoughts
I am so happy that I found these products and realized that I can do my own gel manicure at home.
I will continue to use these products for now.
Let me know if the comments below if you have tried to do your own manicures or gel manicures at home and will you continue to do so?